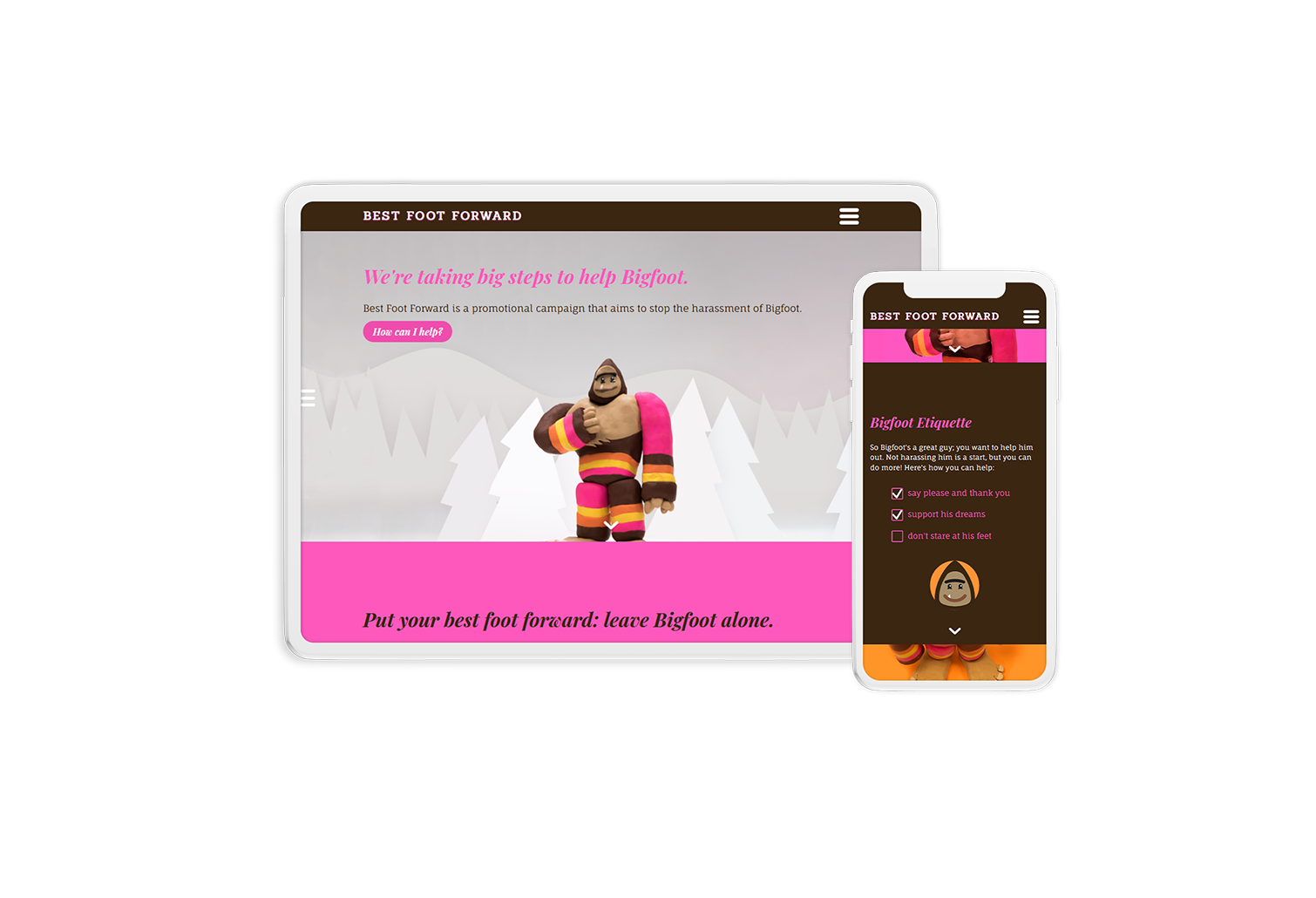 Web Campaign
Best Foot Forward
Objective
In Washington State, the harassment of bigfoot, sasquatch, or other undiscovered subspecies is a felony punishable by fine.
This campaign is intended to spread awareness about the above "blue law" and encourage people to leave bigfoot alone. Rather than taking a negative tone, Best Foot Forward reframes the issue, instead inviting people to be kind to bigfoot or have good "bigfoot etiquette." To accomplish this, Bigfoot is portrayed as a friendly, approachable character through the use of clay imagery and the audience is invited to "put their best foot forward."
Awards

AIGA 100 Show Notable Award, 2021

Student Silver ADDY (District), 2021

Student Gold ADDY (Local), 2021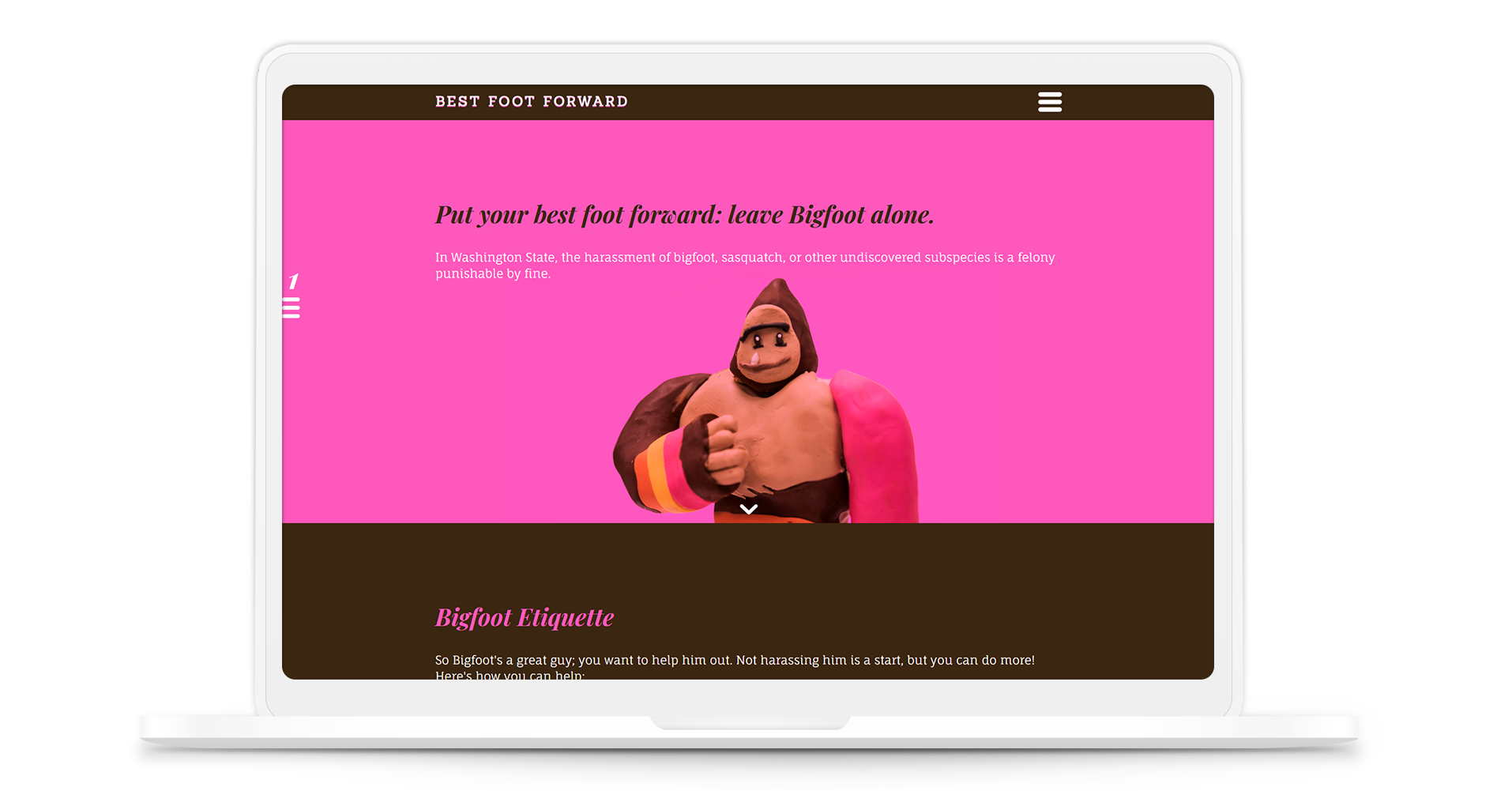 Designed for Interaction
Although the website for this campaign was required to be single-page scrolling, it still needed to invite interest. The original design and resulting developed website utilizes interaction to make an otherwise brief experience more meaningful. Interactive elements like the scrolling page numbers on desktop, and the Bigfoot "happiness meter" help get the user involved in the narrative.
The final website's design was a gradual process, beginning with wireframes and early prototypes in Adobe XD. However, the interactive effects were planned based on those found on existing, real websites so that development would not prove to be impossible.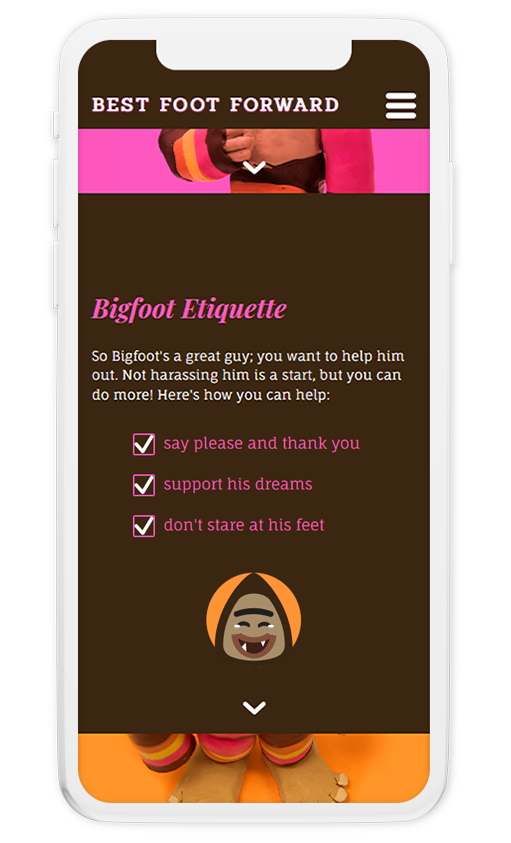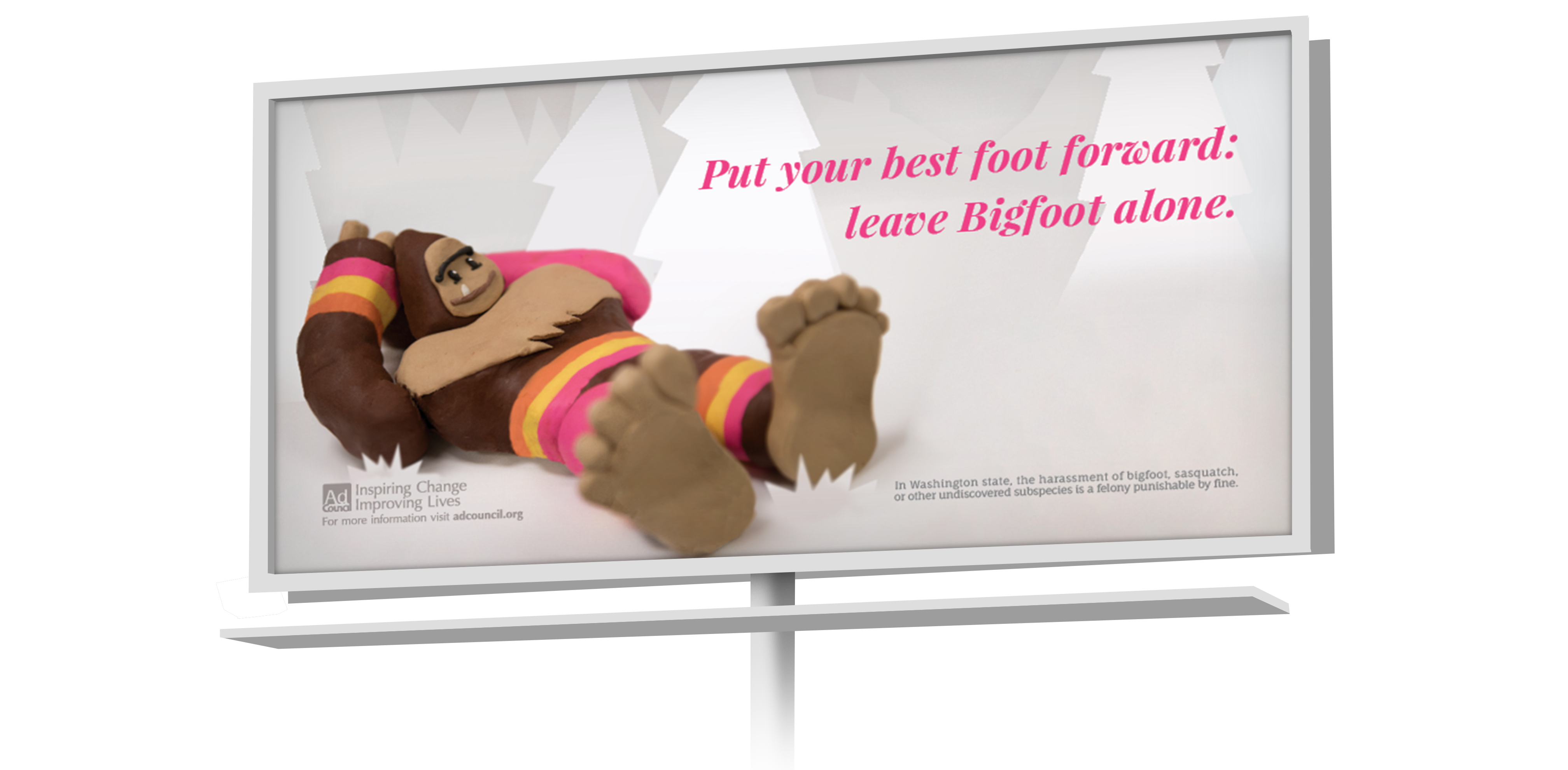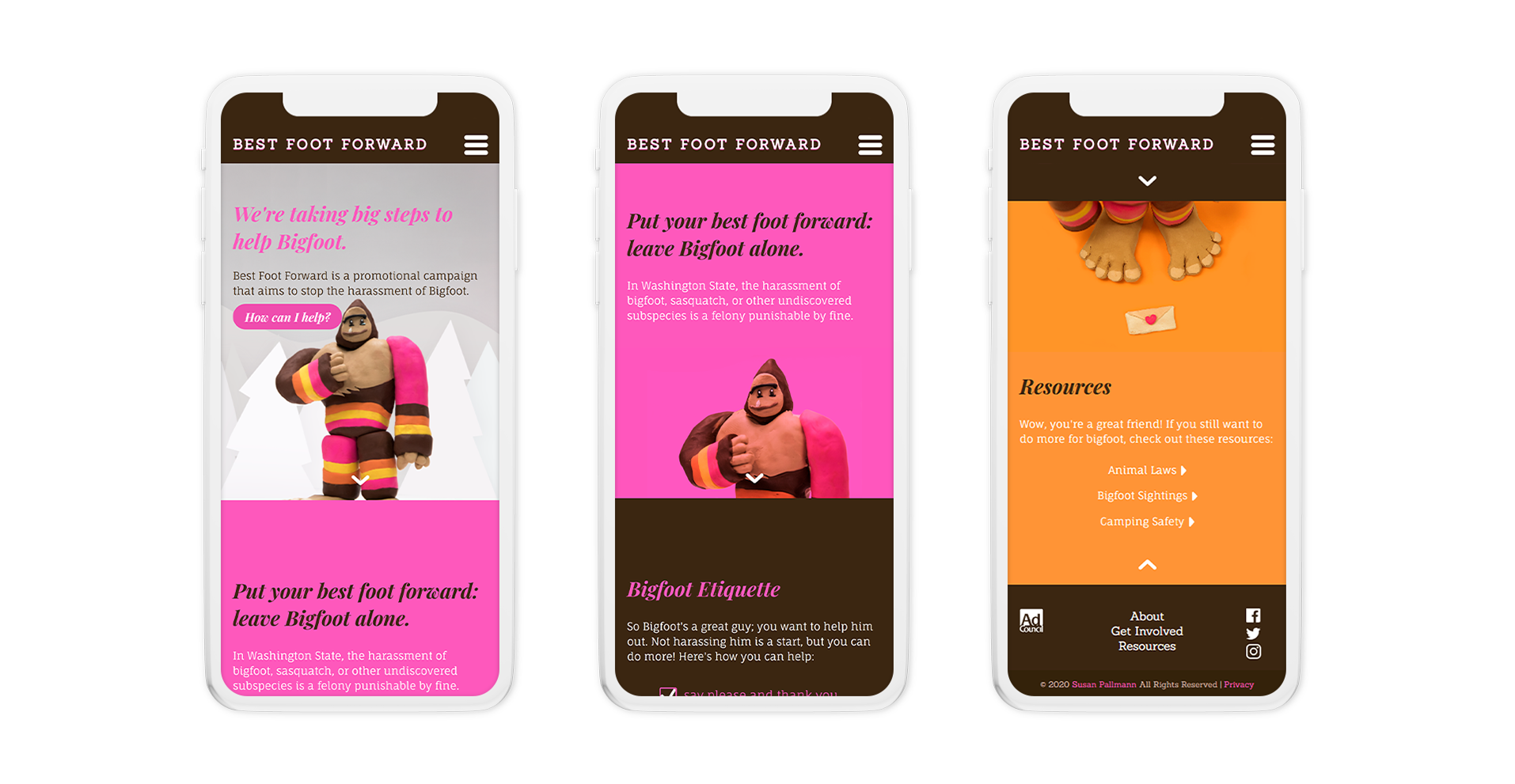 Concept
Bigfoot's character design also served as a conceptual foundation for the rest of the project. Part of designing Bigfoot to seem approachable and friendly was giving him brightly colored stripes on his body. This color scheme and stripe pattern was extended to the responsive web campaign, and creates a more memorable characterization. The idea is that people who see this bigfoot with pink and orange stripes will automatically recognize the campaign and recall the message it stands for.
Creating Bigfoot
Another strategy to make Bigfoot seem approachable was to make the character out of clay, a style most people would associate with children's shows or other friendly characters. So, the Bigfoot character shown in the campaign was sculpted out of clay and posed for a photoshoot. Afterwards Photoshop was used to add in backgrounds and clean up imperfections in the sculpture.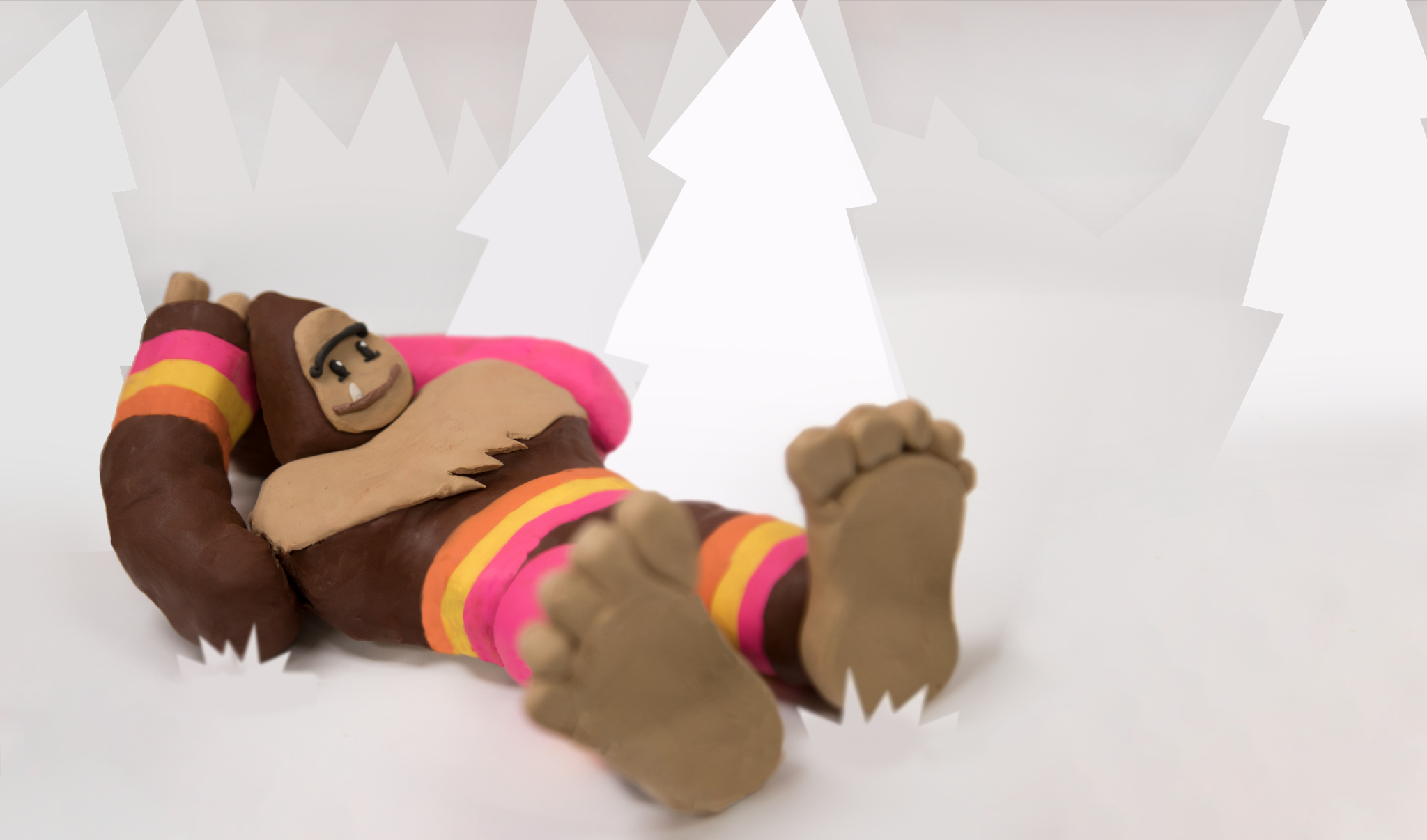 Final Design
The campaign was instructed to include a responsive website design (mobile and desktop), as well as three billboards. The website was specified to be a single-page scrolling website similar in style to some of the Ad Council's campaign websites.
This project provided the unique opportunity to bring more physical, 3D forms into a primarily digital space. Reframing the issue into something more approachable kept the subject matter fun and inviting. Through the use of bright colors, clay figurines, and a sensitive-looking Bigfoot characterization, this campaign gets its message across as cheerfully as possible.
Put your best foot forward: leave Bigfoot alone.